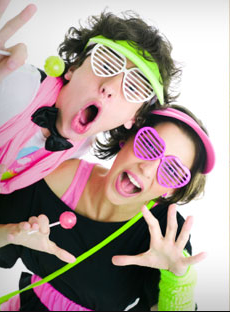 If you long for big hair rock, old school hip hop and synth sounds of the 80s, then Into The Groove is the band for you! The musicians you know and love from Diamond Orchestra have teamed up to combine most excellent musicianship, teased hair, legwarmers, and tons of neon to give you a totally tubular time warp experience.
The band plays the greatest hits from Bon Jovi, Madonna, Journey, Michael Jackson, Prince, Guns N' Roses, Run-D.M.C., U2, and like, so many more. We specialize in cheesy keyboard patches, seriously crazy guitar solos and soaring power ballads from your formative years that will break your heart all over again.
Into the Groove is perfect for 80s theme parties, totally awesome wedding couples, way cool corporate clients, and any other event where a standard variety band just won't do. We can perform perfectly polite music for the beginning of your event and launch into your favorite 80s music later in the evening and party to the max! Like, totally…
For booking information, please contact:
Jessica
Call or Text:
(602) 481-0869
or send me a message using the form below!